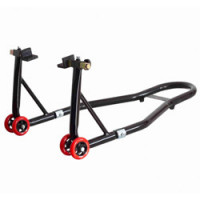 Motorcycle stands
Welcome to our category dedicated to motorcycle stands. Here you will find a wide selection of professional motorcycle stands, ideal for lifting and keeping your motorcycle in a stable position during repairs, maintenance or parking.
We are proud to offer a wide range of high quality motorcycle stands, designed to meet the needs of all riders, from professionals to beginners. Our selection includes scissor stands, center stands, side stands and much more, all made with high quality materials to ensure maximum safety and reliability.
Sorry for the inconvenience.
Search again what you are looking for