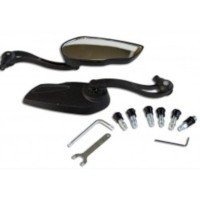 Mirrors
Motorcycle mirrors are a fundamental component for the safety and functionality of your motorcycle. Thanks to our high quality mirrors, you will have greater visibility while driving and a better ability to observe the traffic around you.
Our selection of motorcycle mirrors includes different shapes, sizes and styles to meet the needs of every biker. We are sure we have the perfect item for your bike, from sporty to classic designs, from modern to vintage styles.
All of our motorcycle mirrors are made from high quality materials and are designed to last. Thanks to their resistance to bad weather and their robustness, you will be able to enjoy clear and long-lasting visibility for many kilometres.
Safety is always our top priority. For this reason, all our motorcycle mirrors are tested and certified to ensure maximum reliability and safety on the road.
In addition, we have competitive prices and special offers, to make buying our motorcycle mirrors convenient and easy. Order today and enjoy a safe and pleasant ride with our high quality motorcycle mirrors!
Reference: 295023
Brand: T4TUNE
Mirror rear view left black T-Max 500 2008
Reference: 295022
Brand: T4TUNE
Right rearview mirror black T-Max 500 2008