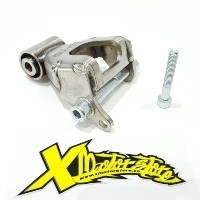 MINIMOTO ENGINE SUPPORT
The best engine mounts for multi-brand minibikes. Available: GHR engine mount, CS engine mount, Polini engine mount, BZM engine mount, Beast engine mount, universal engine mount, and others.
Reference: IMA-04150
Brand: CS Racing
Air-cooled Cs 40cc engine support bracket. Support suitable for Dm, Stamas chassis.
Reference: TST.001
Brand: CS Racing
Engine head support bracket Cs Bzm. Universal support for mini bike head.
Reference: GHR 022.001
Brand: GHR
GHR Engine Mount. Completely in stainless steel. Compatible with Bzm engine block, suitable for water pipe passage.
Price
€65.52
Regular price
€84.00
 In Stock