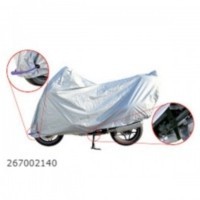 Motorcycle Covers
Motorcycle Covers: protection and safety for your motorcycle.
Motorcycle covers are an essential accessory for every motorcyclist who wants to protect his motorcycle from bad weather, dust and scratches. Available in different sizes and materials, motorcycle covers offer complete protection for your motorcycle, whether you use it every day or leave it stationary for a while.
In our ecommerce you will find a wide range of high quality motorcycle covers, made with resistant and waterproof materials to guarantee optimal protection in all weather conditions. We offer motorcycle covers suitable for all motorcycle models, from the smallest to the largest, and available in different colors to satisfy every style requirement.
Buying a motorcycle cover from our ecommerce is easy and convenient. Thanks to our wide selection of products and the simplicity of the online purchase process, you will be able to find the perfect motorcycle cover for your motorcycle in just a few clicks and receive it comfortably at your home. In addition, we offer fast shipping and an always available customer service to help you at every stage of the buying process.
Don't miss the opportunity to protect your motorcycle with one of our high quality motorcycle covers. Buy your motorcycle cover now on our ecommerce and enjoy the peace of mind of knowing that your motorcycle is safe and protected at all times.
Reference: 01.OT.0403.L
Brand: Ohvale
Ohvale Gp-0 motorcycle cover. Ohvale code: 01.OT.0403.L
Reference: A561
Brand: Alfano
Alfano A561 steering wheel cover
Reference: 267002140
Brand: RMS
Universal motorcycle cover, available in 4 sizes. Cloth to cover motorcycles and scooters, peva + pp material, waterproof and resistant to UV rays with heat-sealed seams, ideal for protecting the motorcycle from bad weather and wear from atmospheric agents. M 203x89x119cm L 228x99x124cm XL 246x104x127cm 2XL 264x104x127cm